Somehow, I couldn't quite seem to restrict myself to a mere 'top five' exhibitions of the year this time round, so here's my (somewhat unconventional) 'top six' favourite exhibitions of 2010:
6.
Exhibition #3
at the Museum of Everything.
Whilst the latest offering may not have been quite as challenging as their first exhibition, which I saw in 2009, visting the Museum of Everything is always a delightful experience. Co-curated by Sir Peter Blake, this enjoyable exhibition was a glorious riot through English eccentricity, from Punch and Judy puppets to seaside souveniers to taxidermied kittens: a friendly breath of fresh air in comparison to the slick minimalism of so many galleries and arts venues.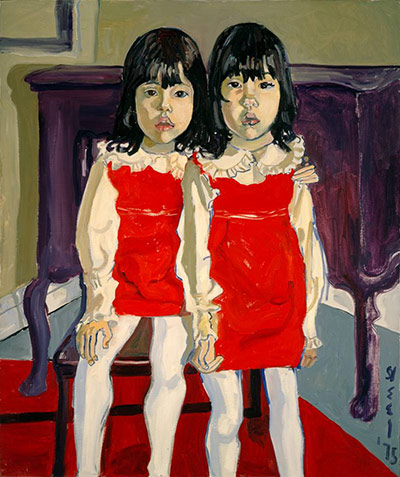 5.
Alice Neel: Painted Truths
at the Whitechapel
I wasn't very familiar with Alice Neel's work until I went to see this impressive and very comprehensive exhibition at the Whitechapel Art Gallery earlier this year. Focusing predominantly on Neel's portraiture, this sensitive exhibition brought together a blunt, unflinching and very powerful body of work.
4.
Touched: Liverpool Biennial 2010
OK, so maybe I'm cheating slightly with this one, since Touched is really a whole programme of exhibitions rather than just one. Though no single artwork or venue especially stood out for me, the power of this year's Liverpool Biennial was its overall energy and dynamism, as well as the sheer range and diversity of work to discover in unexpected places all over the city. My highlights were Laura Belém's
The Temple of a Thousand Bells
(pictured), Tehching Hsieh at FACT, and Ryan Trecartin's frankly bizarre
3.
Chris Ofili
at Tate Britain
I wasn't totally sure whether I really liked Chris Ofili's work until I saw this mesmerising retrospective exhibition at Tate Britain early in 2010. Powerful and compelling, this exuberant, joyous explosion of vibrant colour and texture was also incredibly well thought-out: a great example of what Tate do best.
2.
Céleste Boursier-Mougenot
at the Barbican
For sheer enjoyment, this charming commission for the Barbican's Curve Gallery wins hands down. French artist Celeste Boursier-Mougenot transformed the space into a magical and uplifting soundscape, starring a flock of zebra finches. Frankly, contemporary art doesn't get much better than watching a zebra finch take a bath in a cymbal.
1.
Diaghilev and the Golden Age of the Ballet Russes
at the V&A
Narrowly squeezing in at the very end of the year, this entralling and highly atmospheric exhibition at the V&A was one of my highlights of the year. Blending visual materials with a whole range of fascinating background information about the choreography, music and design of Diaghilev's groundbreaking productions, this was a beautifully curated exhibition: rich, evocative, and full of bohemian splendour.
Read my
top five exhibitions from 2009